The Post Pandemic Higher Education in the context of the new normal of Digital Education and Living,
in the framework of the Oslo Science City.
By
Sana Khan Niazi
Oslo National Academy of the Arts
MA Design
At any given time, there are at least 28000 people in the campus buildings at Oslo Science City. Yet the space outside looks deserted, even during lunch hour.
This paradox leads to a need for a design intervention that will change the way people interact with, or behave around, these buildings. The design intervention aims to create ownership by the users of the space for the space.
The world as we knew it has changed
and we must adapt to using our resources most efficiently and
in most beneficial ways
to Humans and Nature.
.


My concept is


Hybrid Learning


This means that in an imminent, post pandemic future, lectures remain online while
campus life is activated through revived, adaptive reuse of campus buildings.
By transforming underutilized lecture halls and auditoriums into residential spaces of learning, we can create a dynamic learning
environment, trigger community building
activities and provide opportunities for entrepreneurship.
Creating spaces that
are used by residents,
other students and
faculty alike push
towards revitalizing
higher education.
Transfer of knowledge
happens in multiple
directions,
not just one.

While lectures take place on Zoom, the absorption of knowledge happens in this space with the human interaction,
activity, and experimentation; something even an in-person lecture cannot compete with.








According to a study
about hybrid
environments
for Universities
by Katja
Ninneman,
the highest
level of
innovation
happens when
we combine
learning spaces
with living spaces.
And that, essentially,
is also the need
of the hour.

I undertake this investigation through reprogramming a lecture auditorium into a kitchen auditorium;
a common kitchen where people come together to grow food, cook, share stories, and most importantly
share knowledge in completely new ways. The focus is on creating an ecosystem of peer-to-peer learning,
new models of sharing and countering the isolation that comes with digitisation.




Living in a space 24-7 brings with it a sense of ownership and an urge to treat it like one's own. It allows for a bottom-up approach to problem solving, culture creation, and use of space. An enablement of this spatial environment, allows the users to vitalise the space inside out. Residents bring their own character and cultivate entrepreneurship, filling in gaps with what they
can offer in terms of skills and ideas.


Universities like Harvard claim that one of the most important parts of their education is the campus experience.
In Campus 2.0, we open a door to improved emotional intelligence, stronger trust and relationships, and experimental learning techniques paired with the optimised resource allocation.

The C2.0 auditorium kitchen is a testing lab aimed at converting the whole Oslo Science City into a vibrant,
knowledge-sharing hub with a student driven culture of learning and building relationships.
This concept can and should be adapted by higher education institutions around the world.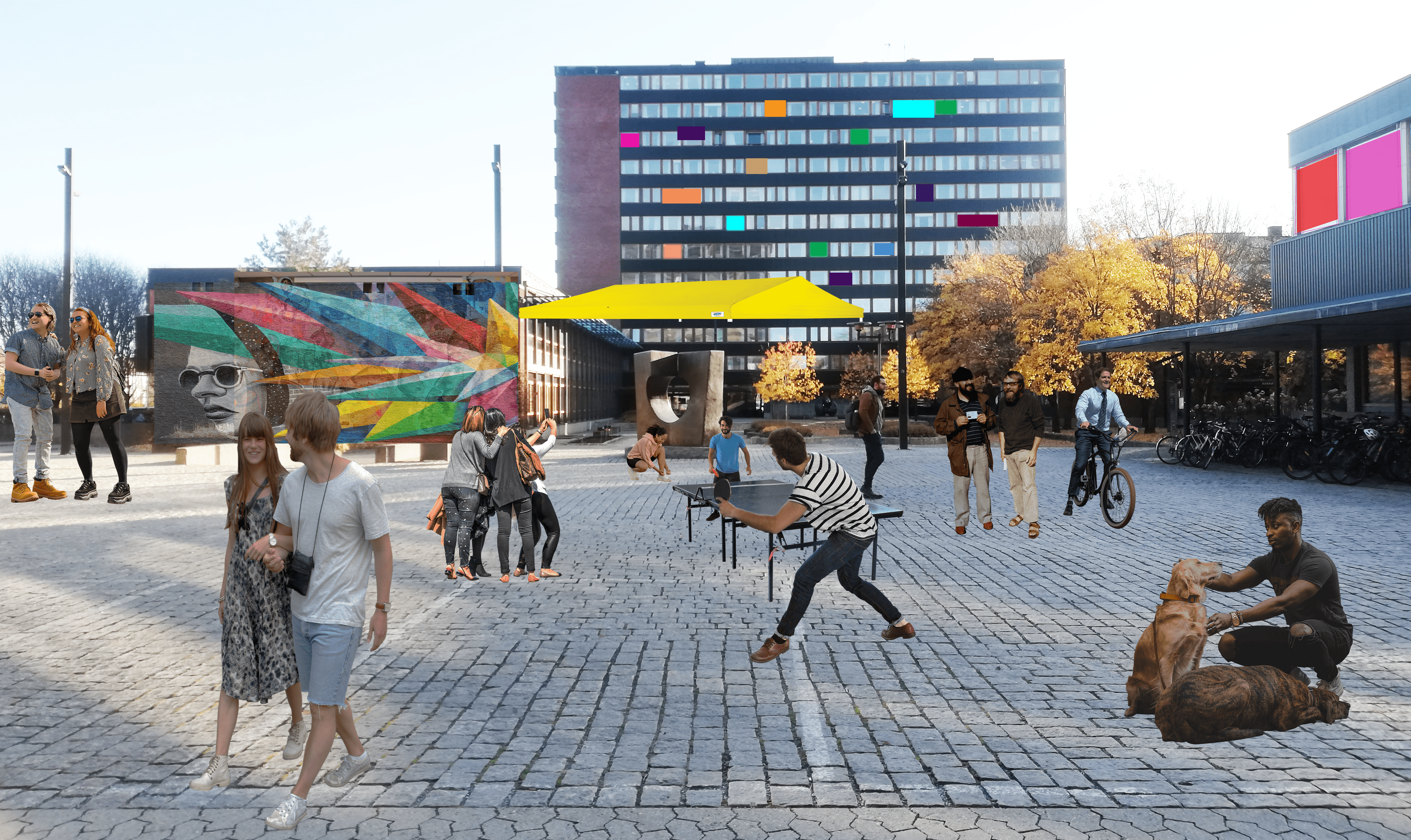 The Hybrid Learning concept model promotes circular economy through reuse of resources. It also addresses our need for environmental and economic sustainability through efficiency building. The OSC project provides a structured opportunity to rethink campus conventions. The Pandemic adds urgency. Together, they point to solutions that radically alter the basis for creative space thinking. C2.0 is the ultimate upgrade from an old-fashioned institution of education to a
dynamic network of creativity and sharing.


This is the campus of the future.