FALL 2020 - STUDIO 1, MASTER 1.YEAR
OSLO NATIONAL ACADEMY OF THE ARTS
Anna Øren
contact: annaoren@hotmail.com
FURNISHING CONNECTIONS
- CONNECTING PEOPLE THRU OBJECTS
Consept


Furnishing Connections is an architecture and design studio that involves people in shaping and changing their neighborhoods. Our concept, thus, has two elements: the design studio and the process of participation. We believe in local participation on the future of an area and its built environment. We use our creative expertise to co-design local solutions, as well as effectively communicate ideas and share insight. We encourage an open dialogue, to harvest local assets, build relationships and support communities to create sustainable social infrastructure in different places. We are hired to help Oslo Science city in creating Norway's first innovations district, where people meet to solve the challenges of the future.
Objective

Our starting point for Oslo Science City is: to build an inspiring city. We know what motivates and inspires people. People are motivated to innovate if they feel that they can express themselves to a community that recognizes their voice and finds it useful. This is what binds individual expression to a community: the growing need for useful, yet individually unique voices. What we need is a city where everyone has a voice, where everyone feels that they can contribute to change in collaboration with others.
How we work: method and goals

1. The first step in every project is to gather information on the area from the users. This could be done in many ways. Bring people in for a workshop, ask them to walk us around the neighborhood, create a social event – all this to get to terms with possibilities and challenges in the area, in collaboration with the locals, both residents, shopkeepers and others who work there. The goal is to formulate a sort of a work program based on local consensus.
2. When we have the "program"; we do our best to design what the locals need.
3. We will present various design proposals to the locals, for them to discuss and vote on.
4. The winning proposal will be produced and placed at one or more agreed positions/locations for the benefit of the local community.

The goals are to formulate a consensus-based program, then undertake a design process resulting in one or more preferred designs, and lastly to produce and disperse the product at agreed locations.
Whats different

In the case of OSC, we did it a little differently. We wanted to involve design students from all of Oslo, providing an opportunity for connecting them to the professional community and to ease their way into the profession. So, after mapping out the needs and wishes of the locals we made a brief and send it out to students all over Oslo. We aim to choose three of the proposals as finalists in this competition. The three will be presented to the locals, for them to choose the winning project.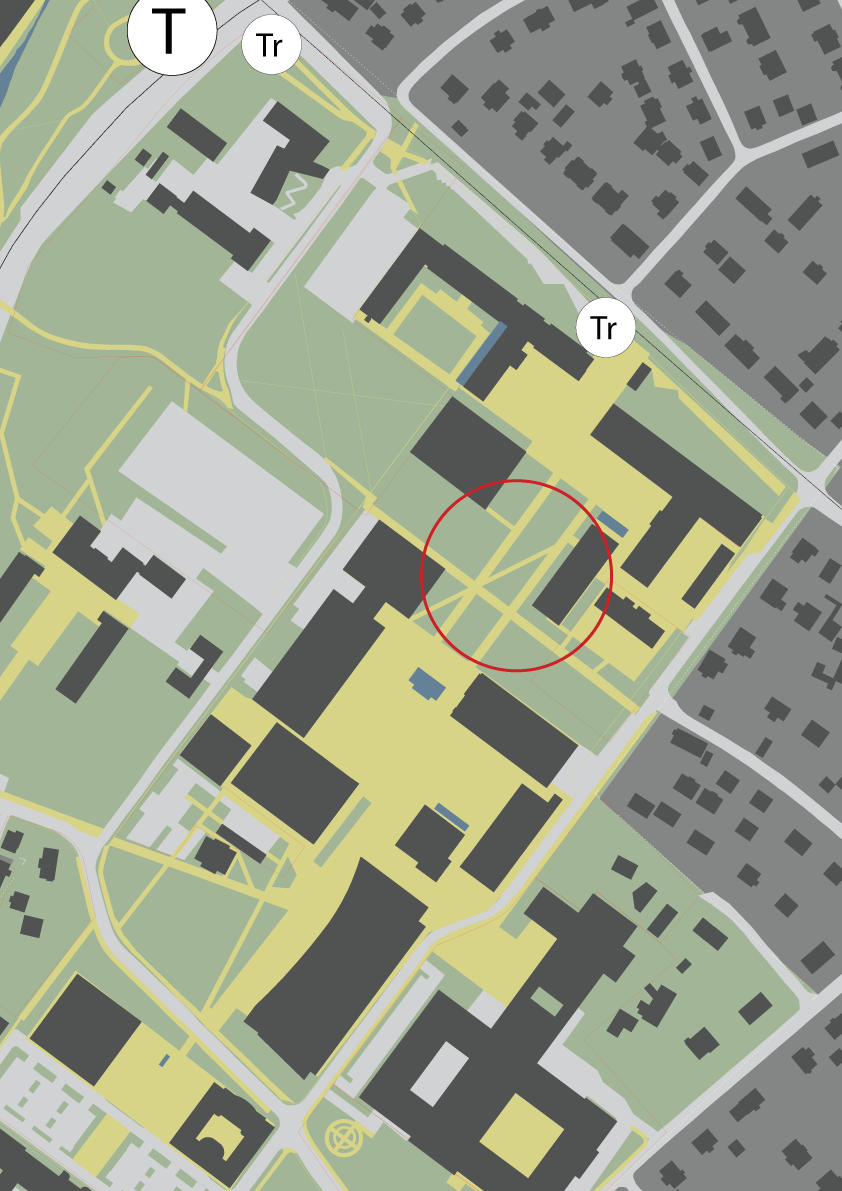 Collecting information under a pandemic

In this case, we asked the people at Blindern (residents, students and workforce) how we could improve the green area in the center of the campus . We performed an online study and reviewed the answers. Over and over again we were reminded of their wish to use the green area more actively. Right now, the park is surrounded by a fence and the area is used more as a highway than a place to be. We also saw this place as a neutral ground between the faculties and imagined that students from all disciplines would use it together – making it a place for connecting with both new and old friends.







Our task then became;

strengthening the space for new interactions by facilitating outdoors meeting space, inviting people to use the area, hosting encounters for both small and big moments.

The aim is to make the green area accessible for both the students and the public, making it a place to pass and observe life, but also to pause; somewhere to re:connect, re:calibrate and re:discover both people and ideas.
Both benches have various ways of use. They offer both normal and wide seating areas, an elevated part and adjustable plates. The plates can function as backsupport or tables if you are bringing school or work outside. These benches keep the options open, giving the user as few rules as possible regarding how it should be used and gives them the freedom to choose for themselves.
The 10 benches will be placed in pares of two down the center of the park, both surrounded and around the trees that are there now. Placed like this, it can create a intimate and private space as well as social space. We will reinforce the ground underneath the benches with cobblestone due to wet soil, preventing the area turning into a mud bath. There is also a need to make paths from the original walkway to the benches to protect the green area. To make these paths in the best way we will first place the benches so we can observe where desire lines occurs, then reinforce the ground where it is needed.

PLANS & DRAWINGS
EARLY PROCESS
FALL 2020 - STUDIO 1, MA1
OSLO NATIONAL ACADEMY OF THE ARTS
Anna Øren
contact: annaoren@hotmail.com