UPSTREAM
The faculty of uncertainty


By Jens Kristoffer Bøyesen Vik
UPSTREAM – the Faculty of Uncertainty
A pedagogical method is most often aimed at a goal; a specific outcome that is presumed reached via rigid learning principles. They can be seen directed only for the goal and not the way there. Not that I´m a pedagogue! UPSTREAM does not have the same goal, it may be that the goal is to not have a goal – That I must say that I am quite uncertain about.

Jens Kristoffer Bøyesen Vik | 991597@khio.no
IM-KhiO
2020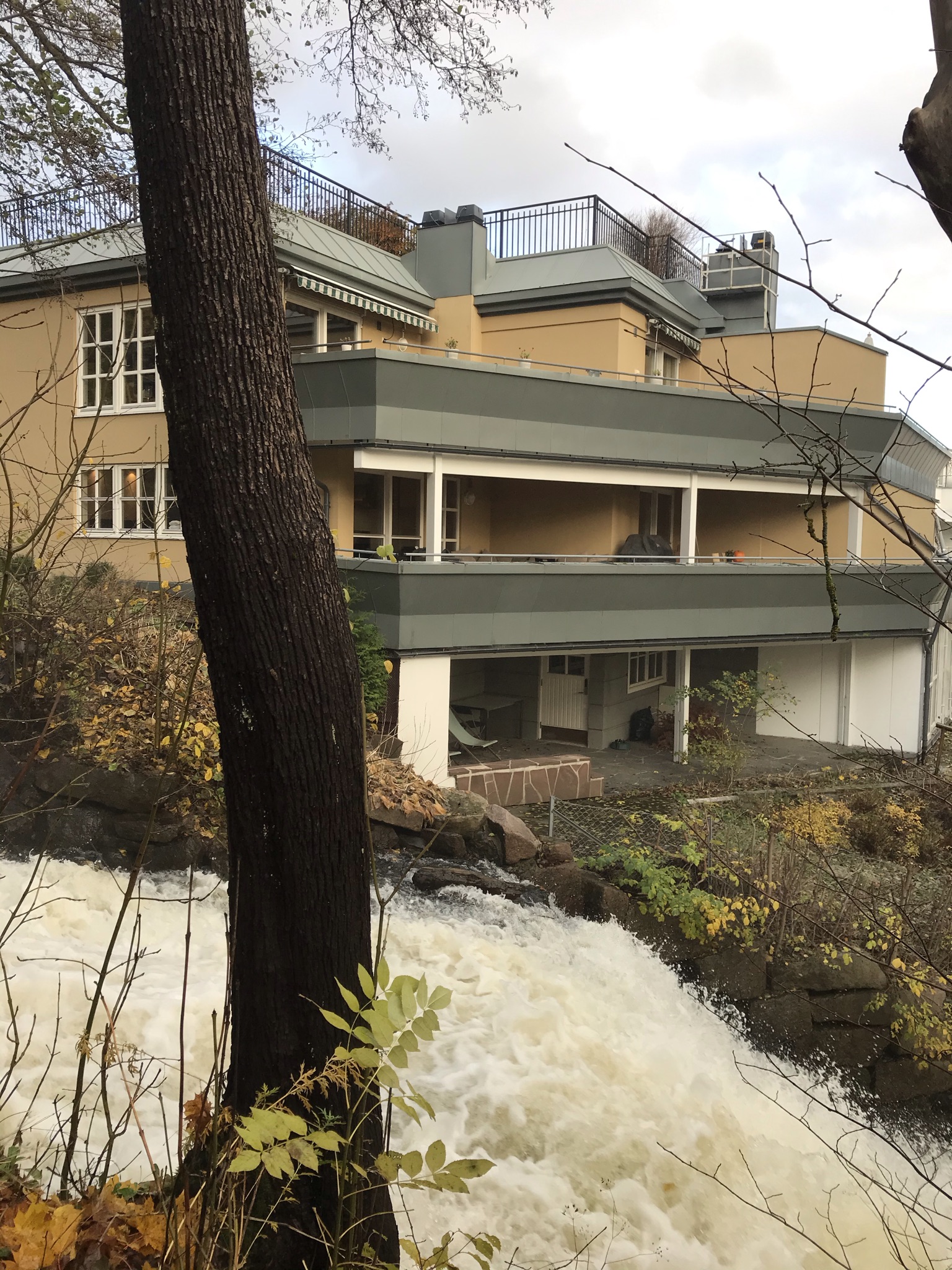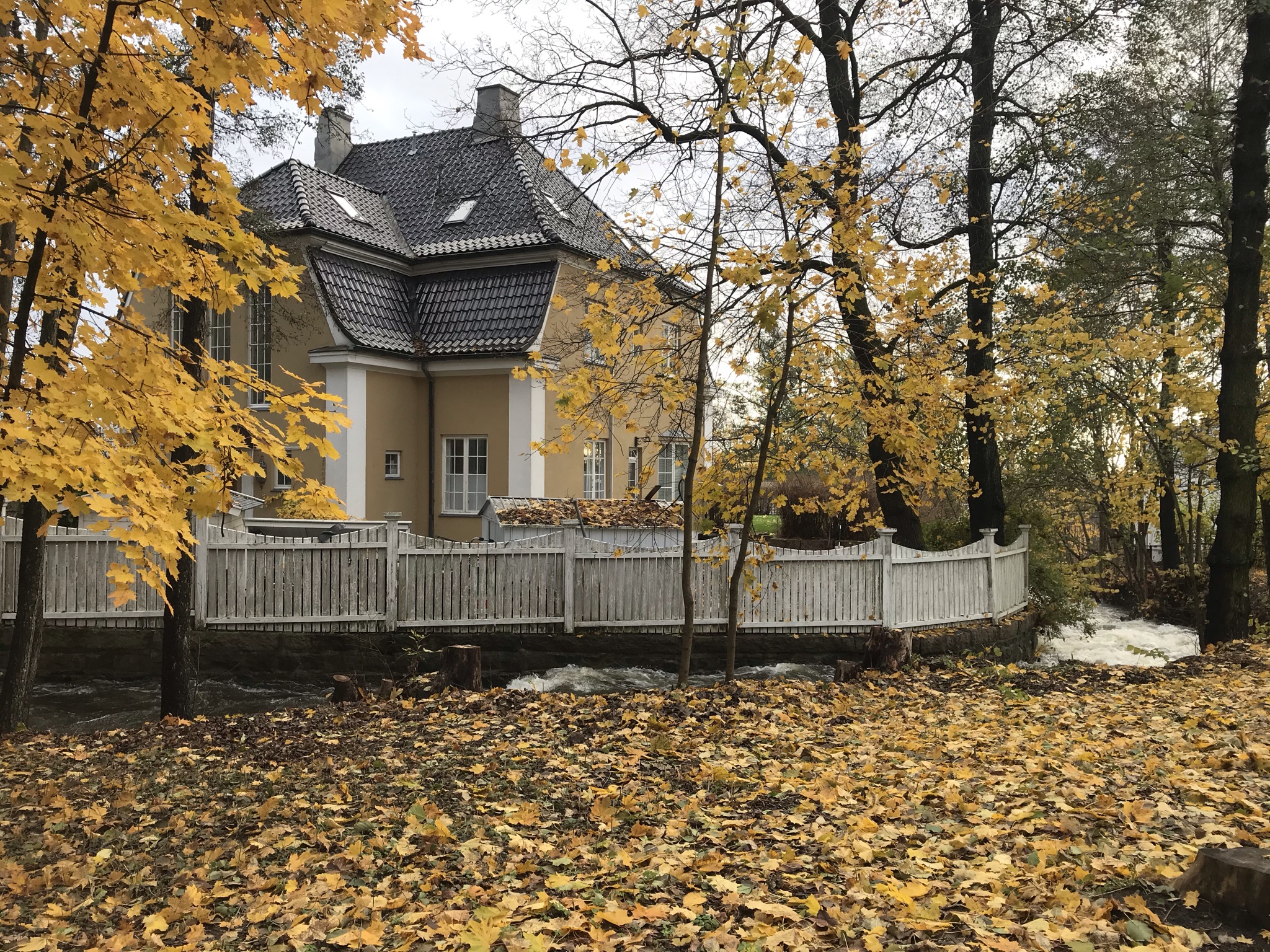 -UPESTREAM-
My project, with the beautiful name UPSTREAM is meant in these premises.

The main house was built in 1918 for a shipowner, and next to it is the apartment complex that was added in the nineties. There is a river on the west side of the house which is continued by a small waterfall. It is from this name that UPSTREAM comes from.

The rest of the name the faculty of uncertainty came almost at the same time, and here I feel you deserve a clarification:

A pedagogical method is most often aimed at a goal; a specific outcome that is presumed reached via rigid learning principles. They can be seen directed only for the goal and not the way towards the goal. Not that I´m a pedagogue! UPSTREAM does not have the same goal, it may be that the goal is to not have a goal – That I must say that I am quite uncertain about.

UPSTREAM therefor is to be seen as a faculty that goes upstream, a faculty where the road and not the goal is the focus. A faculty where the goal is constantly changing due to new discoveries, a faculty where the assured knowledge is the assured uncertainty.

-Location-
OSC - a collection of institutions with different knowledge, a place where knowledge should flow between the different institutions and a place for creation. A place that stretches from Gaustad in the north to Marienlyst in the south; where linguistics has the same affiliation as research on disease, or meteorological analyses. In this landscape, the Faculty of Uncertainty is intended to be implemented. The location is not far from UIO with a location in the borderland of the OSC master plan. I found a building and landscape that seem created precisely for the Faculty of Uncertainty.

With a main house, Villa Bellevue, the newer apartment complex built in 1995 and the river with the waterfall, the attraction was irresistible.
-UPSTREAM-
Built in the spirit of Plato's academy and, consequently, in accordance with Aristotle's pedagogical methods, is conceived as a place without clear distinctions; the distinction between teacher and learner is blurred, and the same goes for school building and nature. A place where the walls of the school are open, a place where strolling and dialogue can provide the same knowledge as a book. Peripatetic school is the term often used for such a philosophy.
Walkways and bridges provide encouragement for strolling. Walkways have been added to the outside of the apartment complex, which will provide residency apartments. These lead up and down, in and out, over the waterfall, as well as connecting the area to the building – or building to the area. When adapting paths and parks that already exist, movement is created, but on the other hand, it makes the area even more accessible to the larger commoners.
This opens the faculty to the public and, hopefully, helps spur random encounters. Meetings between children, adults, students, professors and neighbours.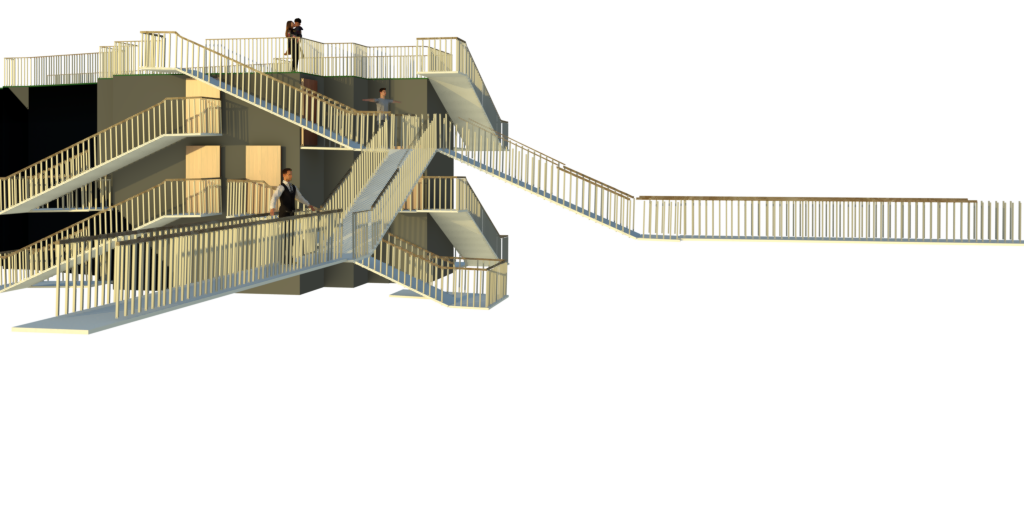 Jens Vik
IM-KhiO
Oslo
2020